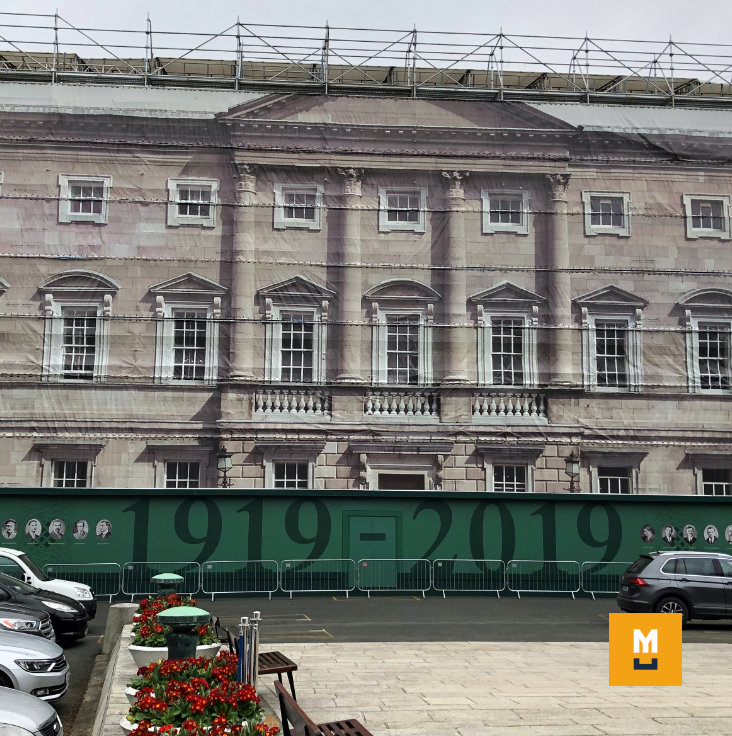 Historic Leinster House Dublin
| | |
| --- | --- |
| Client | Historic Leinster House Dublin |
| Project | Historic Leinster House Dublin |
| Date | 2021 |
Description
This 250-year-old exquisite townhouse was first occupied by James Fitzgerald, 20th Earl of Kildare, later the first Duke of Leinster, in 1745. In 1815, it became home to the Royal Dublin Society. It has been the seat of the Oireachtas since 1924. Our Client Duggan Brothers were engaged by the Office of Public Works to carry out a comprehensive restoration; a restoration fit for a building at the centre of Ireland's modern democracy. We were engaged to provide a weather tight bespoke scaffold structure and temporary roof system to allow weather protection and containment for the full internal and external refurbishment of Leinster House, whilst still protecting the integrity of the building's historic fabric and fixtures and fittings.
Given the historic nature of the building and the need for its conversation, we had to design a structure which would be free standing and therefore could not be tied to the building. Our engineering department, utilising our At-Pac ring system scaffold, designed a buttressed support structure to accommodate the temporary roof and façade access scaffold to allow stone and window restoration. Given the free standing nature of the scaffold and the loads associated with the roof we had to deploy substantial amounts of kentledge which was then connected up to the scaffold at ground level.
We designed and installed our market leading Haki roof solution to create a fully covered structure overhead, encapsulating the sides with shrinkwrap to create a fully enclosed working solution for all trades. As the central house of Ireland's Parliament, the buildings were to remain live and unhindered throughout the project and this was an important part of our remit. We were tasked with producing and installing an image of the building on the external elevation of the scaffolding on Kildare St via a full colour scaffold wrap banner. This essentially meant that the scaffold was invisible with a lifelike image of the building providing a magnificent backdrop for all visitors and media broadcast activities.