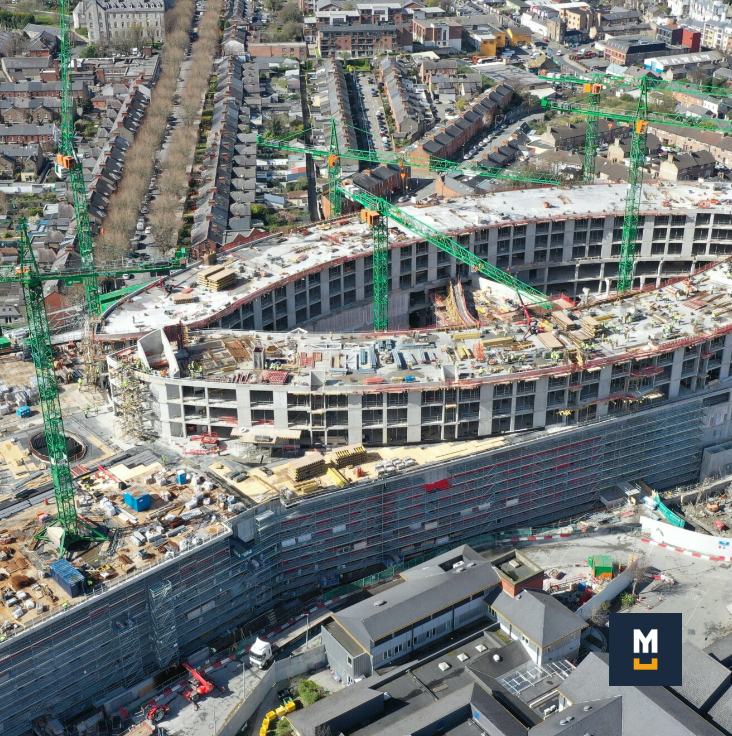 New National Children's Hospital Dublin
| | |
| --- | --- |
| Client | National Children's Hospital Dublin |
| Project | National Children's Hospital Dublin |
| Date | 2021 |
Description
McCrory Access were appointed as the specialist scaffolding sub-contractor to design, supply and erect all scaffolding for this landmark project in Dublin. The project itself is based on a 12-acre site on the St James's Hospital campus and is the largest public construction project awarded in Ireland. The new hospital includes over 6,150 rooms, 4 acres of outdoor gardens and external space and 380 individual inpatient rooms. This is one of the largest construction projects ever undertaken in Ireland and as such the quantity of scaffolding material and man hours deployed on the project is vast.
We supplied our galvanised At-Pac ringlock system to the project and have been responsible for all scaffolds, from several thousand kilometres of edge protection to all external facade access scaffolds and internal atrium access birdcages. As part of our remit we also designed and erected a full cantilever platform to the outside of the parapet around the building to allow finishing works to be undertaken. Our client also engaged us to provide containment solutions on the project and this involved us providing shrink wrap to fully encapsulate numerous work locations.
Given the scale of the project we deployed a full time project management team to include two Contracts Managers, Safety Manager, Logistics Manager and Inspection / Tagging Supervisor. We are proud of our contribution on this project which will no doubt provide much needed world class medical services to children for many years to come.