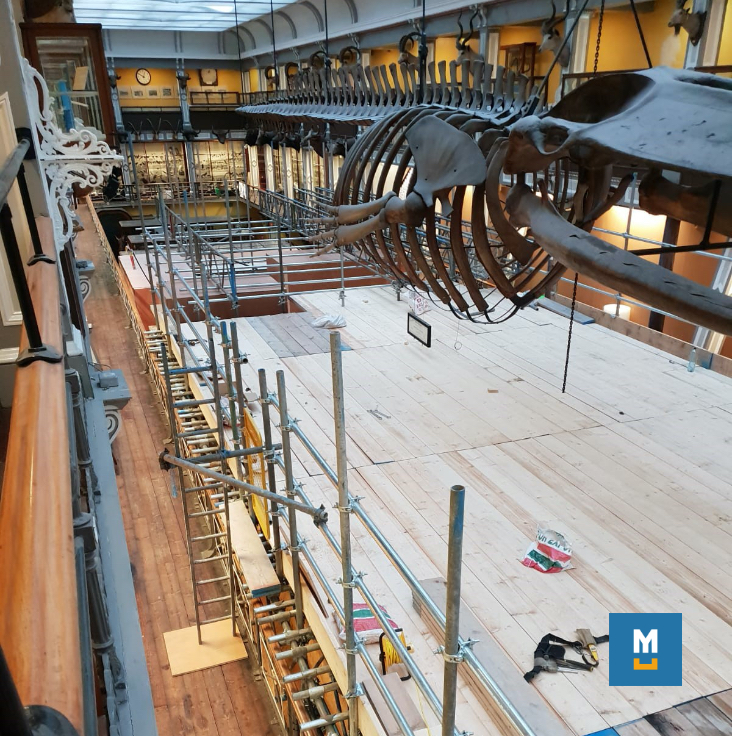 Natural History Museum Dublin
| | |
| --- | --- |
| Client | Natural History Museum Dublin |
| Project | Natural History Museum Dublin |
| Date | 2021 |
Description
This is one of the more interesting projects we have been engaged in in recent times. We were tasked by the Office of Public Works to design and erect a working platform for the de-installation of whale skeletons, required due to a major refurbishment at the Museum. Suspended from the glass ceiling were the skeletons of a fin whale found at Bantry Bay in 1862 – estimated to be about 20m (66ft) long – and a juvenile humpback whale which was stranded at Enniscrone, Co Sligo, in 1893.
Our in house design team had to design a structure which could support the required working loads allowing the dismantling of the delicate exhibits but also to ensure that the scaffold structure remained clear from all existing artefacts. We designed and erected a split level platform utilising 750mmm beams and tube and fitting, decked out and left flush with 13' scaffold boards and a smooth plywood finish. The second phase of this project required the extension of the working platform to cover the entire exhibit room. This was required to allow installation of temporary steel trusses spanning from wall to wall, under the glass ceiling to allow for the installation of a temporary celling for the museum.
This was another fantastic project to be involved in, building on our portfolio of scaffolding solutions for conservation works to some of Ireland's most prominent buildings such as the Four Courts, Historic Leinster House, National Gallery of Ireland and Kilmainham Courthouse.